"Talent, not capital, will be the key factor linking innovation, competitiveness and growth in the 21st century…"

World Economic Forum, 2015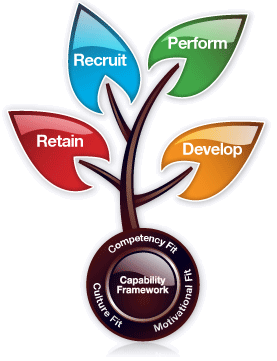 Human Capital Management is a set of integrated organizational HR processes designed to attract, develop, motivate, and retain productive, engaged employees. The goal of talent management is to create a high-performance, sustainable organization that meets its strategic and operational goals and objectives.
Without being able to identify, hire, train, develop, and motivate the right employees, companies can't meet their customers' expectations, and by extension their financial goals. Many companies are failing to identify and recruit the right employees from their candidate pool because they continue to use in today's connected environment, the same hiring strategies that were used back in the manufacturing focused 1970s and 1980s.
In today's competitive business environment, companies recognize that having the right talent strategy can make the difference between winning or loosing in the marketplace. In multiple recent studies of worldwide companies two of the primary talent management issues as identified by the participating CEOs were:
Hiring the right people for their teams
Over 46% of New Hires Fail Within the First 18 months.

HR.com
While job skills can be taught, executives have learned that the ability of an individual to be part of a team can be one of the primary indicators of an individual ability to contribute to the company bottom line. From sales and customer service, to engineering and management our hiring solutions can help your company reduce your employee acquisition costs, increase team efficiency, and improve your company performance.
Training and developing employee skills
What happens if we train our employees and they leave? .. Asked the CFO..

What happens if we don't train them and they stay? … Said the CEO?
In today's dynamic business environment, customers want the latest technology, the latest solution, and the most modern products and services. Because of that reason the primary challenge employers face is the need to continue raising their workforce knowledge just to keep up with their customers' expectations.
Talent Management: The Way to Increase Employee Productivity
Hiring and developing the right skills in your workforce can improve your company profitability in over 30%. With over 20 years of experience in hiring and development solutions we can help you and your company identify and hire the right people from your candidate pool, and develop the skills and abilities that will be needed in today's competitive business environment. Our proven industry solutions include:
Pre-employment skills, aptitude, and background checks
Employee job and team fit assessments for sales, engineering, financial, customer service, and management roles.
Over 50 training and development programs in the areas of sales, customer service, diversity and inclusion, management and leadership.
Contact Us:
If you want to learn more about our hiring and development solutions, or for a FREE, CONFIDENTIAL, NO OBLIGATION CONSULTATION, you can reach us via our contact form, or email us at ( info@icqconsulting.com )
References and Related Articles
Essential Tools of Talent Management – https://www.forbes.com/sites/forbesinsights/2013/04/24/essential-tools-of-talent-management/#14c8d7c7102a
46% of New Hires Fail Within the First 18 Months – https://www.hr.com/en/app/blog/2012/01/46-of-new-hires-fail-within-the-first-18-months-wh_gxvzonck.html
The 3 Things CEOs Worry About the Most – https://hbr.org/2015/03/the-3-things-ceos-worry-about-the-most
18th Annual Global CEO Survey – https://www.pwc.com/gx/en/ceo-agenda/ceo-survey.html
The Top Issues CEOs Face These Days https://www.wsj.com/articles/SB10001424052702304914904579439501124390682
Human Capital Report, World Economic Forum – https://reports.weforum.org/human-capital-report-2015/
Copyright © 2016 ICQ Global Asia. All Rights Reserved.