The Challenge of Global Competition
From dealing with local currency exchanges, and managing global brands; to maintaining the organization focus, developing a consistent organizational culture, and developing a global leadership mindset; today's CEO's consider global competition one of their primary challenges they face as part of their responsibilities.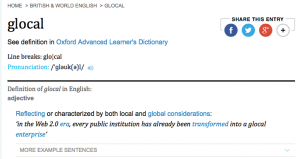 Even dictionaries have accepted that in today's complex business environment, public and private organizations need to address the needs of their local stakeholders, while keeping in mind the global impact of their decisions. Today business leaders are challenged by diversity and globalization in ways that we have never experienced in the past.
From the most classical country, race, language and political differences; to the more modern gender, culture, and even generational orientations leaders need to be able to quickly adapt their styles to the always changing needs of their diverse stakeholders (or risk potential personal and professional failure).
Global Leadership Challenges and Solutions

As firms expand internationally, global-leadership capacity (or the lack thereof)  is surfacing more and more often as a one of the primary challenges for multinational companies. According to multiple studies over 76 percent of executives believe their organizations need to develop global-leadership capabilities, but only 7 percent think they are currently doing so. Also more than 30 percent of US companies admit that they have failed to exploit fully their international business opportunities because of insufficient internationally competent personnel.
With more than 60 years of combined experience helping multinational executives we can help you and your organization address the challenges. From individual coaching, to organizational wide consulting, our proven solutions have helped individuals and organizations:
Improve leadership efficiency
Increase employee engagement
Increased customer satisfaction
Contact Us
To learn more about our global leadership solutions and how can they help you achieve your personal or organizational goals; or for a FREE, CONFIDENTIAL, NO OBLIGATION, CONSULTATION you can reach us via our contact form, or email us at ( info @ icqconsulting.com )
Copyright © 2016 ICQ Global Asia. All Rights Reserved.