What is Diversity and Inclusion?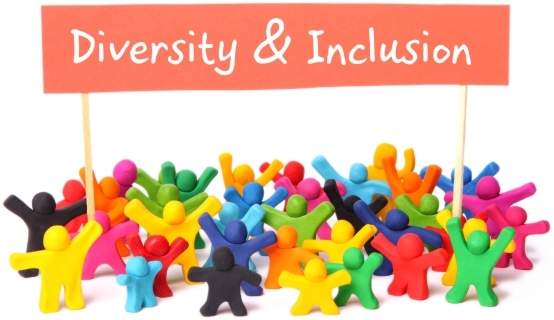 While for most of human history, diversity has been consider primarily an issue of country of origin, race, language, religious, and even political differences, today's multigenerational, multicultural, and even multi gender preferences environment is challenging the classical age old HR baked solutions.
Defining diversity and inclusion can be a challenge for everyone, from academics, to corporate executives. In today's business environment we can consider that:

Diversity is any dimension that can be used to differentiate groups and people from one another. It means respect for and appreciation of differences in ethnicity, gender, age, national origin, disability, sexual orientation, education, and religion.

Inclusion is a state of being valued, respected, supported and listened to. It's about focusing on the needs of every individual and ensuring the right conditions are in place for each person to achieve his or her full potential.

In simple terms, diversity is the mix; inclusion is getting the mix to work well together.
Royal Bank of Canada – https://www.rbc.com/diversity/what-is-diversity.html
Our Solution: 25% Productivity Increase

Diversity and Inclusion are not simple buzzwords in today's globalized business environment. From sales and marketing, to employee motivation, leaders and managers need to understand how to address their employees' diverse backgrounds in order to properly motivate them to give their best efforts to the benefit of the organization. Multiple studies have shown that diverse teams are consistently 12-25% more productive that their non-diverse counterparts, due to their abilities to better identify, and solve the needs and challenges of their customers.
At ICQ our consultants have been a the forefront of the diversity and inclusion movement for over 20 years. Our team of multinational experts ( Brazil, Cuba, Romania, Hungary) have helped companies that range from Fortune 500 to Start Ups, develop and implement diversity and inclusion programs that have consistently achieved:
Increased employee satisfaction
Increased employee productivity
Increased customer satisfaction
Contact Us
To learn more about our diversity and inclusion solutions and how can they help you achieve your personal or organizational goals; or for a FREE, CONFIDENTIAL, NO OBLIGATION, CONSULTATION you can reach us via our contact form, or email us at ( info @ icqconsulting.com )
Some of the companies that have taken advantage of the cultural management and global leadership solutions include:
References and Related Articles
The 3 Things CEOs Worry About the Most – https://hbr.org/2015/03/the-3-things-ceos-worry-about-the-most
18th Annual Global CEO Survey – https://www.pwc.com/gx/en/ceo-agenda/ceo-survey.html
Developing Global Leaders – https://www.mckinsey.com/insights/leading_in_the_21st_century/developing_global_leaders
The Top Issues CEOs Face These Days – https://www.wsj.com/articles/SB10001424052702304914904579439501124390682
The Global Leadership Center – https://www.ohio.edu/global/glc/
Definition of Glocal (Oxford Dictionary) – https://www.oxforddictionaries.com/definition/english/glocal
International "Glocal Communities Online" – https://www.glocals.com
The U.S. Global Leadership Coalition – https://www.usglc.org
What is Diversity and Inclusion – https://www.rbc.com/diversity/what-is-diversity.html
Moving from Diversity to Inclusion – https://www.diversityjournal.com/1471-moving-from-diversity-to-inclusion/
At the University of Arizona, Diversity isn't just about talk. It is about action – https://diversity.arizona.edu
Office of Diversity and Inclusion – https://www.diversity.va.gov
Copyright © 2016 ICQ Global Asia. All Rights Reserved.